(Written October 10, 2003) The little company gets bought by the bigger company, which is in turn gobbled up by an even bigger one. Same job, same place, but there have been 3 different company names in the 7 years I've been there. Now we are no longer even in the same location. Many of us former smaller companies, at different locations, have been "consolidated" into a single location. Unfortunately, the old location was Crystal City (bad enough), but now we are in a brand new office building in South East DC (next to the Navy Yard). So I've given up driving to work (parking at $300+ month plus the uncertainties of the 14th St bridge bottleneck) and am learning about the Metro life style. At least I'm getting caught up on some of my reading during the commute now, so it is not all bad.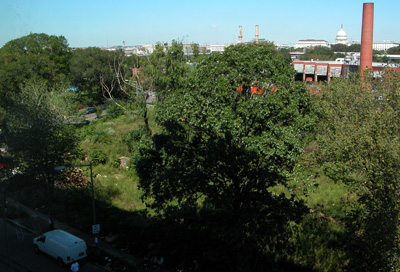 A good point of the move however, was a totally unexpected one - the view out of my window. I can see the Southwest freeway about 3 or 4 blocks away, and there is a good view of the Capitol right behind that, along with some other large government buildings that I haven't identified yet. But the good part is that I have a small field of green and trees immediately outside my window. It is a nearly vacant block with only a single building on one corner - the "Star Market - Groceries, cold beer and wine". I'll let you guess how many "groceries" they sell. Bars on all the windows, and the actual store area inside is about the size of a large closet, with the cashier sitting behind bullet-proof glass. You can buy potato chips and the like there, so I guess those do count as "groceries".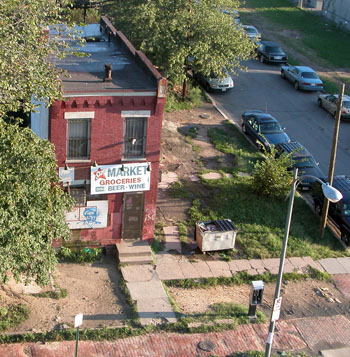 But the rest of the block is a little patch of overgrown nature - right there in the midst of the concrete jungle. There is trash in it, of course, but most of that is hidden by the green stuff. There is also a regular crew of nature lovers that inhabit this "park". It appears they have a well worn path to the center of the lot where they are completely hidden from view by anyone on the street. But I guess they haven't yet gotten used to the idea that there are people in that big new building next to their park.
One of my co-workers brought in a pair of binoculars, and it has been educational. Any appreciation of nature is apparently enhanced with the favorite recreational substance of choice. They come and go all day with their crack pipes and needles. And lest you make any unwarranted racial assumptions, this is a racially diverse group who seem to be quite the model for inter-racial harmony.
[Read more…]
Posted by winddrifter at October 10, 2003 - 12:58