Background
Not all engineering happens at a desk. I have had the good fortune to have some interesting trips over the years, mostly for testing (data collection - mainly vibration, but other measurements also). As I dig out the old photos and scan them, I'll be adding some of the more interesting ones here.
---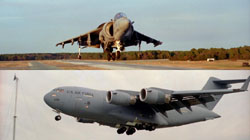 Bogue Airfield, NC - In March 1995 I was on a test job at Bogue Field, North Carolina while working for NKF Engineering. I had the opportunity to witness C-17 Globemaster and Harrier Jet takeoffs and landings up close.
---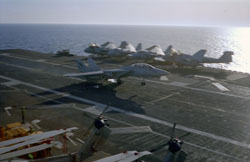 CVN-72 Aircraft Carrier - In January 1992, while working for NKF Engineering, I had the good luck to be given the task of collecting test data from onboard an Aircraft Carrier which was conducting at-sea air operations. I spent nearly a week onboard the CVN-72 ('Abe Lincoln') off the coast of California. Definitely a lifetime memorable experience.