Some Digital Photography Techniques
I've always loved photography, and even had a small darkroom when I was a kid. But I never got very good at the processing end of things, and never progressed past black and white. With digital photography that has all changed - techniques that were difficult or nearly impossible in a dark room can become nearly trivial in Photoshop or a similar photo editing package. I feel like I've been waiting all my life for digital photography to arrive! If you are still not convinced to make the switch from film, or would like more information about the difference in capabilities between digital and film here is a useful and technical comparison of Film vs Digital.
You do not need to spend the money on Photoshop for a good graphics editing program; there are a number of capable photo editing applications available. The Gimp (GNU Image Manipulation Program) is very capable open source, and free, software that can be readily downloaded. It has pre-compiled versions for many platforms. Here's the link to the Gimp pre-compiled Program for Windows. And of course there are many applications available for sale, including Paint Shop Pro which has many capabilities similar to Photoshop and retails for well under $100. Another good option, for the same price is Light Zone. LightZone is a bit different from some of the others mentioned above in that it specializes in adjusting lighting effects in digital images.
Here are some direct links to the topics below:
Digital Camera Noise Reduction
Restoring Faded Colors for Scans of Old Photos
Increasing Dynamic Range with Multiple Exposures
Depth of Field Trade off - Aperture vs Diffraction
Increasing Depth of Field with Multiple Exposures
Scope Adapter
Legal Information for Photographers
Links to Various Tutorials


---
Digital Camera Noise Reduction
Digital cameras generally do very well in a brightly lit scene, but some 'noise' can creep in for dark areas or those in which the ISO (equivalent digital 'film speed') has been increased for low light level conditions. The short explanation is that in any electrical sensor there is some very small random signal ('noise') present. For a digital camera image sensor, dark areas of a photo correspond to very little signal (light) reaching the sensor. Thus the desired signal is not much larger than the random 'noise', which can lead to a speckled appearance. Turning up the ISO setting for a low light level magnifies this noise. Some higher end cameras have various techniques for dealing with this, but you can still end up with the grainy appearance in your photos.
Avoiding or minimizing noise can begin with the exposure settings on your camera, as discussed in this Expose Right Tutorial (exposing for maximum Signal/Noise - S/N - ratio by moving the bulk of the histogram towards the 'right' or higher signal end.
Photoshop and Paint Shop Pro both have built-in software capabilities for reducing digital noise, and there are a number of other products on the market developed specifically for this purpose. Here is a Review Of Noise Reduction Software. I have found Picture Code's Noise Ninja to work very well. Below is an example. The left pane is the original image, which was badly underexposed. The second pane shows the result of adjusting the RGB levels to obtain a better exposure. The exposure and colors are much improved, but at the cost of a very grainy/speckled appearance. The third pane shows what Noise Ninja was able to do for reducing the noise.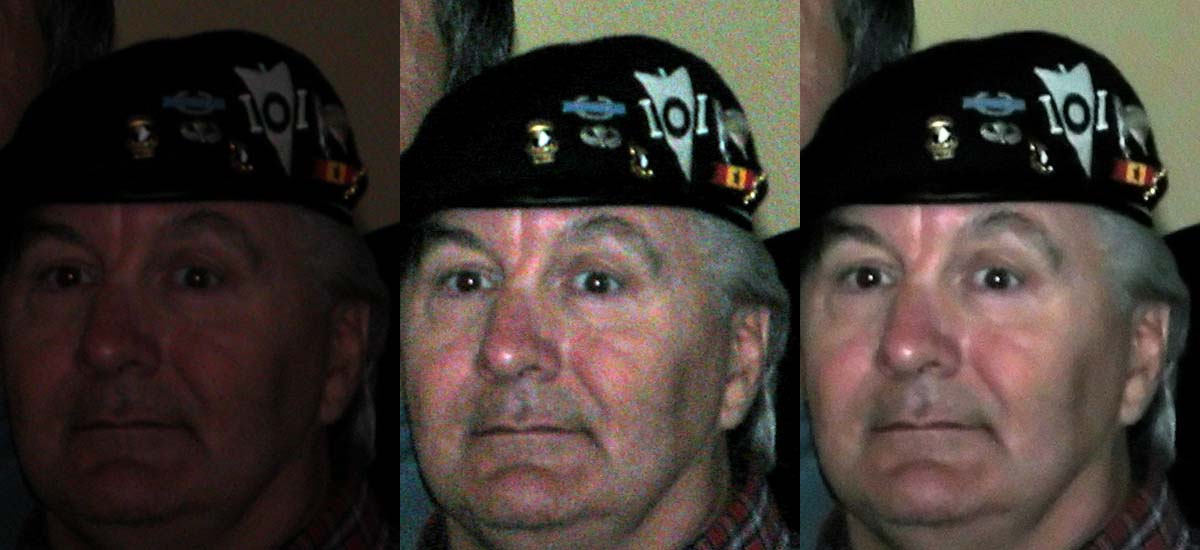 ---
Restoration of Color For Scanned Photos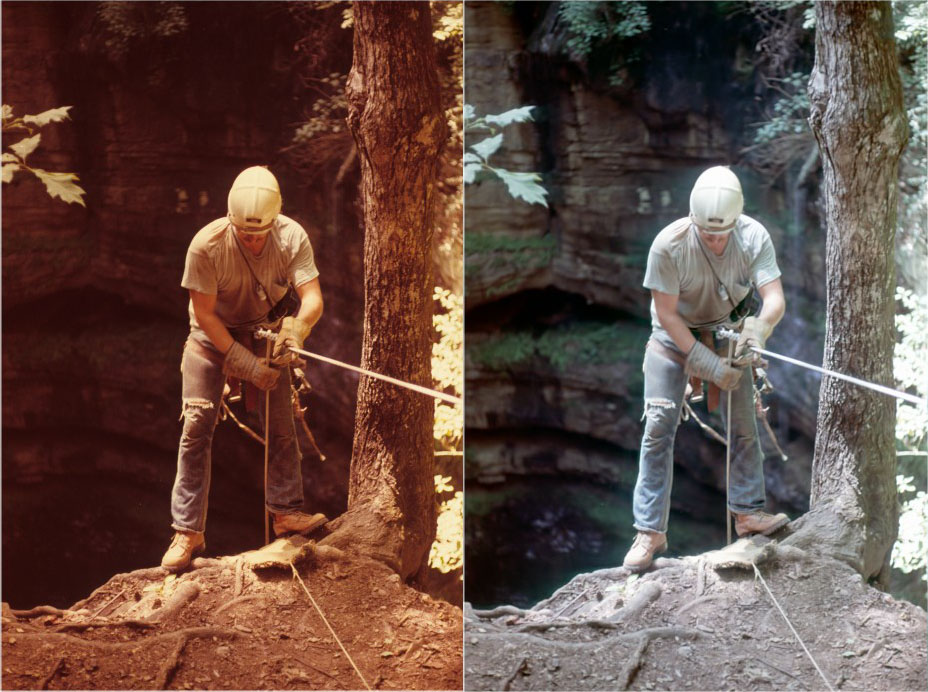 ---
Enhancing Dynamic Range By Multiple Exposures
Capturing a photo with a wide range of lighting can be very difficult, as the image sensor can only capture a range of lighting levels much lower than the eye is capable of seeing. For a dynamic, moving scene there is little you can do about this, but for a stationary scene you can use a tripod and make multiple shots at various exposures. Many cameras will allow you to automate this by using an "auto bracketing" setting, which will quickly and automatically take multiple shots at a range of exposure settings. If done correctly, even the lightest and darkest regions will be properly exposed in at least one of the images. All that remains is to then combine the correctly exposed portions from each. There are at least two ways to do this, one of which is a manual method using layers and masks, and the other is highly automated using special software.
Layers and Masks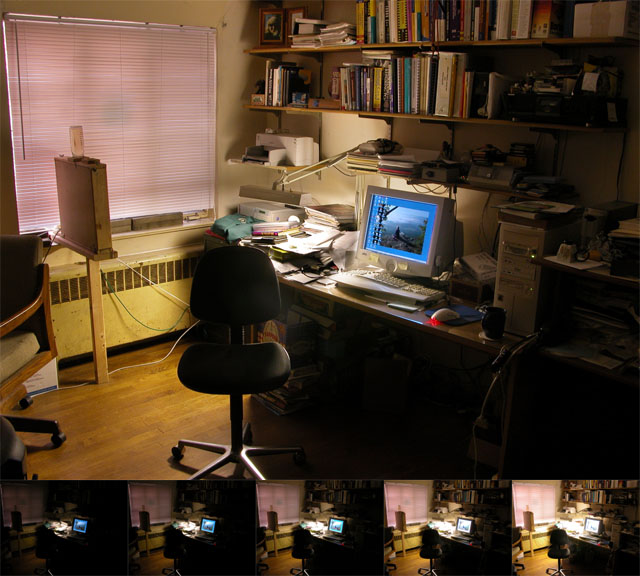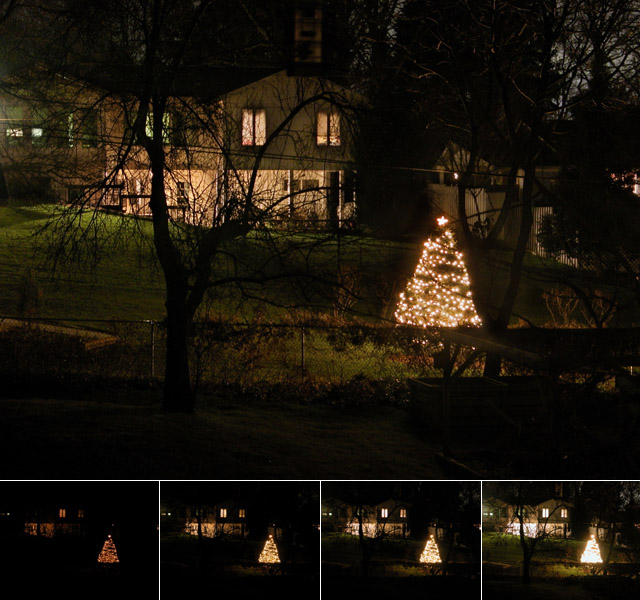 Photomatix Automated Software Method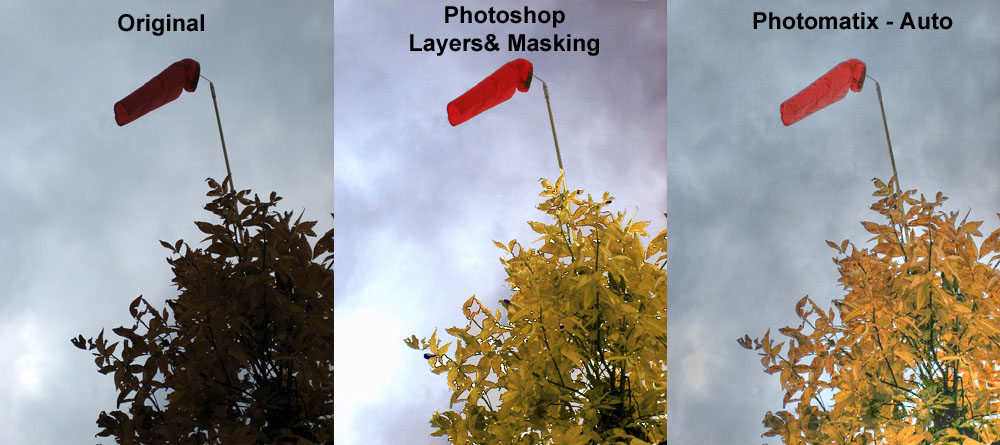 ---
Depth of Field Trade off - Aperture vs Diffraction
In Macro Photography it is tempting to set the maximum aperture number (minimum diameter opening) to obtain the maximum Depth of Field, and then blast it with enough flash to get the correct exposure. However, you may end up gaining depth of field but losing sharpness if you go too far. That is because of Diffraction. As the aperture opening becomes very small, diffraction begins to degrade the image. At what point this happens depends on the sensor (actually, the individual pixel) size and other factors. However it is easy enough to determine with your own camera and lens.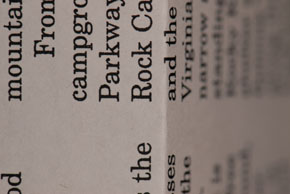 The above pic shows a folded text page that was used. The left side was parallel to the lens, and the right side was folded away from the lens. The lens was focused on the left side. A series of pics were taken at different aperture settings, and then combined and labeled as shown below. Click on the image to see the full size result.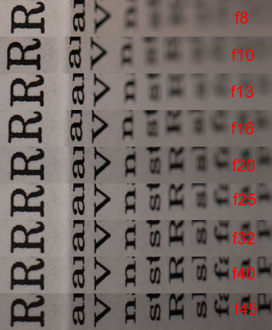 Check the full size result carefully. You will see that more of the text on the folded right portion comes into focus as the aperture (f-stop number) is increased. But also pay close attention to the 'R' on the left side. The camera is correctly focused for this region of the page, and it is sharp and clear for all the low f-stop numbers, but begins to lose sharpness somewhere around f20, and is quite degraded by f45.
Now, none of this means you shouldn't go to the very high aperture numbers if you absolutely need to get the depth of field, but realize that the depth of field comes at a cost. If you can get the photo with a lower aperture, then that is the best choice. Do your own tests, and decide what works best for you.
---
Increasing Depth of Field (DOF) Via Multiple Exposures
---
Scope Adapter

---
Photography - Some Legal Information
---
Some Processing Tutorials