(Written March 22, 2003) Today was a nice spring day and I opened the bee hives for the first time this year. It is always a surprise as to what you'll find. The bees have been out flying, so I knew all 3 hives made it. Which is not a sure thing. Bees don't hibernate, they just get in a tight little ball and eat honey to generate heat (that's why they store so much of it). You have to be careful to leave them enough in the fall. And with the mites that are throughout the bee population now, they can become too weakened to make it all winter long (the Queen stops laying eggs in the fall and doesn't resume til spring - so the fall bees aren't replaced every few weeks like summer bees are). Even a well stocked healthy hive can die if the weather stays too cold for too long without a break. The bees need a milder day to move their "cluster" in the hive in order to get to unused honey supplies. I've heard tales of bees starving to death just inches away from ample honey supplies, simply because it was too cold for them to move to it.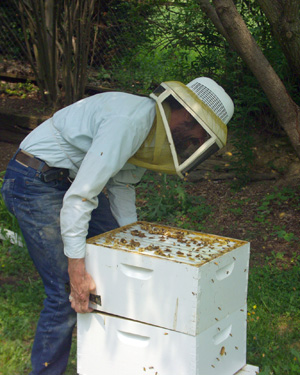 Besides the 3 hives in the yard we have an observation hive in the study (the bees come and go through a tube in the window). It is really useful for seeing what is going on in bee-land. For instance, last January (2002) I discovered that they had loaded up with pollen on a couple of mild days. That was the third week of January! Where in the world did they find that pollen? We have a witch hazel, but it typically doesn't bloom until February some time. I still don't have an answer to that one. This year was different though - there were no warm January days, and no sign of pollen in the hive till nearly the end of February.
The three yard hives still had a surprising amount of honey left, which means I can stop feeding them sugar water - no more Easy Street for the Girls… All three queens were laying eggs again, although one was way behind the other, so I moved some brood comb from the more populated hives to the weaker one. That might also help things out a bit with swarm season rapidly approaching.
There are countless articles in the bee magazines about techniques to keep the Girls from swarming. I've tried about all of them that made any sense at all. I think I've finally figured out why none of them seem to work all that well - bees just don't read. It doesn't matter how clever this "master" beekeeper's idea may be - nobody ever told the bees… Whoever wrote the Murphy's Law Corollary - "under the most carefully controlled conditions of temperature, humidity and environment the organism will do what it damn well pleases" could well have been a beekeeper.
[Read more…]
Posted by winddrifter at March 22, 2003 - 18:45