(Written August 16, 2010) Jean and I just got back from my 4th Viet Nam reunion. We had attended my first-ever reunion in 2004, which was also the first reunion of my Recondo platoon in over 20 years. That was a memorable event ( http://wind-drifter. … Nam/ReconReunion.php ). In 2006 the first reunion of the 2/502 Infantry Battalion (101st Airborne Div) was held, and we went to that too (the Recondos were part of the 2/502). They had been having yearly reunions through the early 80's, then the guy who had been organizing them died, and his wife had thrown out all the records (which were simply index cards back then) - and no one had tried to put things together again until a couple of guys organized the one in 2006. That was held in conjunction with the larger 101st semi-annual reunion. It was also where I agreed to take over setting up a new web page ( http://2nd502.org ), and so became much more involved. This was the second reunion since then, both of which were held together with the 101st reunion.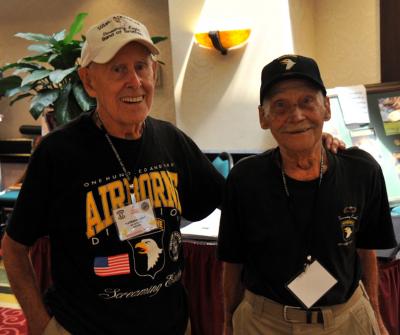 Our numbers have grown, and there were 190 guys from the "O Deuce" alone signed up for this reunion, with many more on our roster who didn't make it. Together with the other 101st vets, there may have been close to 1000 guys at this Indianapolis reunion, including a number of vets from World War II and Korea. These two guys were from the Easy Company that was featured in Band of Brothers:
They were a hoot - the guy on the right was a tiny little shriveled and bent gnome of a guy - and they both were running around looking like trouble searching for a place to happen. They had a lot, if not all, of their meals paid for by other vets at the local restaurant.
This was a year that a lot of loose ends and stories came together. Late Friday night, all seven of us from the Recondo platoon that were sitting at a table figured out that we had all served together for at least a few months in the summer of 67 (the Recondos typically operated at ~40-50 guys total).
[Read more…]
Posted by winddrifter at August 16, 2010 - 16:09