(Written late at night to some younger friends while my wife was out of town) I was sitting here going idly surfing before bed… Came across a movie sound track and one thing led to another. It (Kubrick's Full Metal Jacket) had one track that played a key role in my (mis-spent) youth (high school version). And that led me to a couple of others that also figured prominently. Not all that sure why you'd care, except perhaps as a glimpse into a long-ago time ;-)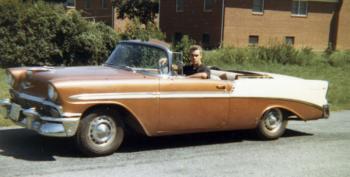 Anyhow, in high school ('65) I had a '56 Chevy convertible, which I thought was a pretty cool set of wheels. There were no tape decks (or even FM radio) then, just a few Top 40 AM stations to listen to. Sears had a car record player that played 45 rpm records. It actually did a pretty good job and didn't skip unless you hit really big bumps, like rail road tracks. There was also no stereo then, but you could 'enhance' the mono tracks with a 'reverberator' (basically a tunable-delay echo track).

I imagine today that would be done electronically, but back then it got the delay by vibrating one end of a spring, then picking up the signal at the other end of the spring. It also had it's own amplifier, so between the player and the reverb you could generate some respectable (for the time) volume. Although the same railroad tracks that would cause the record player to skip would also cause the reverb spring to hit something, adding some extra loud echoing twangs to the noise.
In case you have not yet gotten the idea that these were different times, perhaps this pic of yours truly from about that time will help clarify ;-) On weekends there were about 3 or 4 of us that would regularly get together to 'raise hell'. We were still trying to figure out exactly how to do that, but we were getting some pretty good OJT by investing in large quantities of beer and then sort of letting things work themselves out from there.
[Read more…]
Posted by winddrifter at February 8, 2011 - 04:48